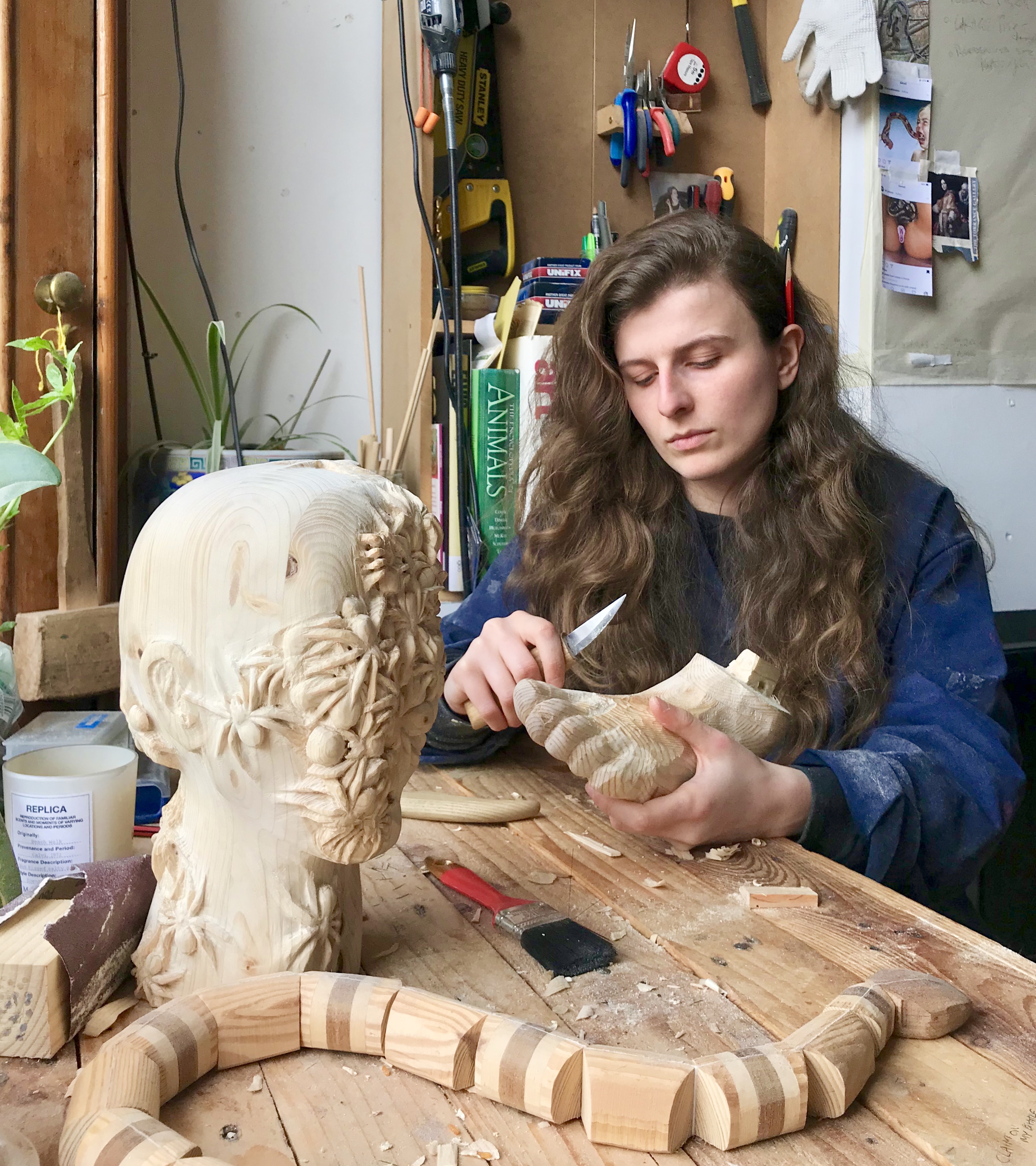 Scottish artist, specialising in woodcarving. Lives and works in Glasgow.
Email: anniegrahamart@gmail.com
Instagram: @anniegraham.art


2020/Present – Salt Space member.
2020 – Lockdown Collective.
2017 – Present – Queer Collective.

EDUCATION
2017-2020 BA (Hons) Fine Art: Sculpture and Environmental Art, Glasgow School of Art.
Studied under: Sue Brind, Michael Stumpf, Stephanie Smith, Clara Ursitti.

2016-2017 UAL Foundation Diploma Art & Design, Edinburgh College.
Studied under: Neil Manning, Debbie Miller, Leon Hill.

EXHIBITIONS
2020
Forthcoming: 'In 24-Hours' online exhibition. The Wall Space, Falkirk.
'Art in the Times of COVID-19' online exhibition, Castleton University Gallery in Vermont USA.
'Call and Response' group exhibition with SEA4 students in Pollok House, Glasgow.
'It's a Mess' group exhibition in Civic House & the Barnes, Garage Space.

2019
'Wood Ye Aye?' Solo exhibition in Project Space 2, The Vic, Glasgow.
'Show Me the Difference' group exhibition, House for an Art Lover, Glasgow.

2018
'MORE IS LESS', group exhibition. Lauriston Arches, Glasgow.
'Drinks Provided', group exhibition. Garage Space, Glasgow.

2017
Millport group exhibition. Barnes Building, Glasgow.
'WIP', work in progress group exhibition at Glasgow School of Art.
'The Big Art Show', group exhibition, Edinburgh College.

AWARDS
2017 Academic Award for Excellence in Art & Design, Edinburgh College.

RESIDENCIES
Lockdown Collective online residency, during COVID-19, 2020.
Pollok House, Glasgow. Two week showcase for site specific work on House's history 2020.
Research trip in Great Cumbrae, field study of Millport and marine biology centre. FSC Millport, North Ayrhire, Scotland 2017.

GRANTS/SCHOLARSHIPS
Graham Charitable Trust Bursary, 2018.

PUBLICATIONS
ColorBloc Magazine, print and digital publication, 2020.
The Social Distance Art Project, 2020.
sadgrads2020, Instagram for UK art school graduates to showcase their cancelled Degree Show work due to COVID-19.
Social Distanzine, 2020.

PRESS/INTERVIEWS
Art review: Glasgow School of Art Degree Show 2020, Susan Mansfield, The Scotsman, 2020.
Consumerism, collage, chaos and gender politics in the School of Fine Art, review by Jan Patience, The Herald, 2020.
Mythology and Woodcarving in the 21st Century, interview with Natasha Alexander 2020. The Social Distance Art Project.